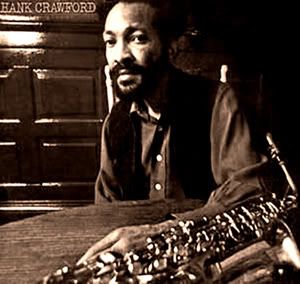 Today I'm starting with some sad news. It's always sad to see a musician or artist go, but we all have to go sometime. Well, legendary Jazz artist, Hank Crawford died last week at the age of 74 in Memphis. This is after another Ray Charles musician, Sax man David "Fathead" Newman, died last month at 75. Born Bennie Ross Crawford Jr. in Memphis on December 21, 1934 into a large Jazz and Gospel-loving family, he was destined for the music world. He even went to Manassas High School, which gave us other noted musicians, such as Isaac Hayes, Jimmie Lunceford, and tenor saxophonists Charles Lloyd and George Coleman and pianist Harold Mabern. For five decades, he was known for his funky and soulful saxophone playing in the Ray Charles Band and with B.B. King before making it big in the Jazz world. Recording such songs as "The Peeper," "New York's One Soulful City," and "I Hear a Symphony" (cover of Supremes' hit). R.I.P. Hank.
In other news... Look who has another baby!!
Erykah Badu has given birth to her third child. It's a girl!!!! The baby was born on Sunday at her home and the labor lasted about five hours without painkillers. Ouch!!! I could never do that!!! Rapper Jay Electronica (who will be on my next Who's That...Artists of the Day) is the baby's father. Badu has a son named Seven from Andre 3000 and a girl named Puma from West coast rapper The D.O.C. Obviously, Erykah has an affinity for rappers and giving weird names to her kids. Guess what her new daughter's name is...Mars? Ok?
Also... Danity Kane No Mo', No Mo'
Making the band group Danity Kane has called it quits after three years!!! For some reason, I knew it would not last. They just did not seem to have the glue to stay together. After Aubrey and D. Woods were kicked out of the group by P. Diddy. Then Shannon left and now there is only two, Dawn and Aundrea. The next Making the Band will focus on the two remaining members making it now as possible solo artists (which is great because Dawn and Aundrea were my favorites in the group). On the other hand, D. Woods will be working on her own album. If you want to remember the old days, you can still listen to their two top-selling albums, Danity Kane and Welcome To The Dollhouse.
Continuing Notorious news...
Voletta Wallace is finally tired of Lil' Kim. She is mad that Lil' Kim did not like the movie and did not want Naturi Naughton to play her (supposedly because she was too dark, but I did not like her as Lil' Kim for other reasons; read my review). Ms. Wallace said "Tell Lil' Kim to go find herself, go drink a cup of green tea and get a life! This movie is not about Lil' Kim. She felt we used her character to promote [but] this movie is about my son. ... Lil' Kim needs to go sit down." Moreover, she mentions how Lil' Kim wants to be a white girl (which I agree with; she did die her hair blonde and wear blue contacts!!!). And the saga continues...
Is Jigga right for B?
According to Tom Joyner, the answer is NO!! On one of his recent shows, the comedian Earthquake mentioned that the reason why Beyonce was crying (and it was a little weird how she ran off stage quickly in tears, just saying) was that she regretted marrying a "thug" as he so nicely put it. He continued, "She knows that she doesn't have someone like Barack and she was……just looking around thinking about the choices that she's made," he continued "She should take a cue from [Jennifer Lopez] and leave the thugs alone. J Lo knew what to do." Joyner joined in (ha ha) and agreed with the comic, saying that it is cool now to be with someone with an education and that she would never have what Michelle has. Hey, don't rag on Jay; he may have started out as a "thug," but he has made something of himself. Doesn't that count for something? Like my dad says, "It's not where you've been, but where you're going in life."
Tribute to Aaliyah
It's been eight years since the tragic death of Aaliyah. I remember that day clearly because I was crying my eyes out. Many people loved Aaliyah because she was so sweet and such a poised artist. Now, others are acknowledging that, too. A bio-pic will soon be made about her life, starring Canadian singer Keshia Chante as the singer. Other musicians who will help with the project are Timbaland, Missy Elliot, Ginuwine and Hype Williams. I hope this will be a wonderful tribute to this wonderful singer and person. I miss you, Aaliyah, R.I.P.
Thriller, Thriller Night... On Broadway?
Seems like Michael still has money problems! Producer James L. Nederlander is creating a stage version of Michael Jackson's Thriller, including songs from Jackson's two albums, Thriller and Off the Wall. Nederlander owns nine Broadway theaters, so it will be easy for him to find a place to show it. I am not worried about the story ( as he says,"Girl meets boy, they fall in love, boy has big secret, now what?"), but I am worried about how corny it will be!!