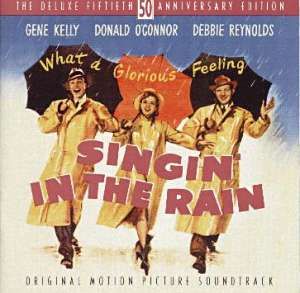 Speaking of MGM musicals, this is one of my favorite --
Singing in the Rain
!
Known as one of the greatest musicals in film history, the 1952 musical starred Gene Kelly, Debbie Reynolds, Jean Hagen and Donald O'Connor. It was making fun of the transition from silent film to talking pictures (Basically, if your voice sounded terrible, you were out of a job in Hollywood!). Gene Kelly was in charge of directing the choreography and dance numbers in the film, while Stanely Donan directed the rest of the film. Arthur Freed, who produced the film, also was the lyricists for the songs (Nacio Herb Brown wrote the music).
INTERESTING FACTS:
In the "Singing in the Rain" scene, Gene Kelly actually had a 103-degree fever and had to dance in a very warm jacket. Luckily, there was rain to help cool him off a bit, but he is a true professional to do one of the most famous musical scenes in history while sick!
Debbie Reynolds was not a trained dancer and Kelly actually insulted her about that. One day on the set, Reynolds met up with Fred Astaire and he actually help her with the choreography. This was unusual for Astaire because he often practiced his dances alone.
Gene Kelly was 39, while Debbie Reynolds, his love interest in the film, was only 18! Close to statutory rape status much!
Surprisingly, in a movie involving lip-synching, Reynolds voice was sometimes actually Jean Hagen's voice and her singing voice was dubbed over by Betty Noyes during the scenes when Reynold's character is dubbing for Jean hagen's character. Ironic, isn't it?
Here are some of my favorite songs from the film:
1) Make 'Em Laugh (an exact copy of Cole Porter's "Be a Clown," which was performed by Gene Kelly and Judy Garland in 1948 in
The Pirate
. )(I heard it took Donald a few days to recover from the physical stunts he had to do!)
2) Moses Supposes (Hilarious!)
3) Good Morning
4) Singing in the Rain
5) Dream of You
6) Beautiful Girl (Love the song, not the fashions!)
7) You Were Meant for Me
8) Lucky Star
9) Would You
I love all the songs from this movie; that is why it is so great!